On August 10, 2020, an unusually strong and long-lasting line of thunderstorms, a derecho battered vast swaths of Iowa and the U.S. Midwest. More than a week after the storm, tens of thousands of Iowans were still without electric power, and many farmers were mulling whether they could salvage crops and repair grain silos before the coming harvest.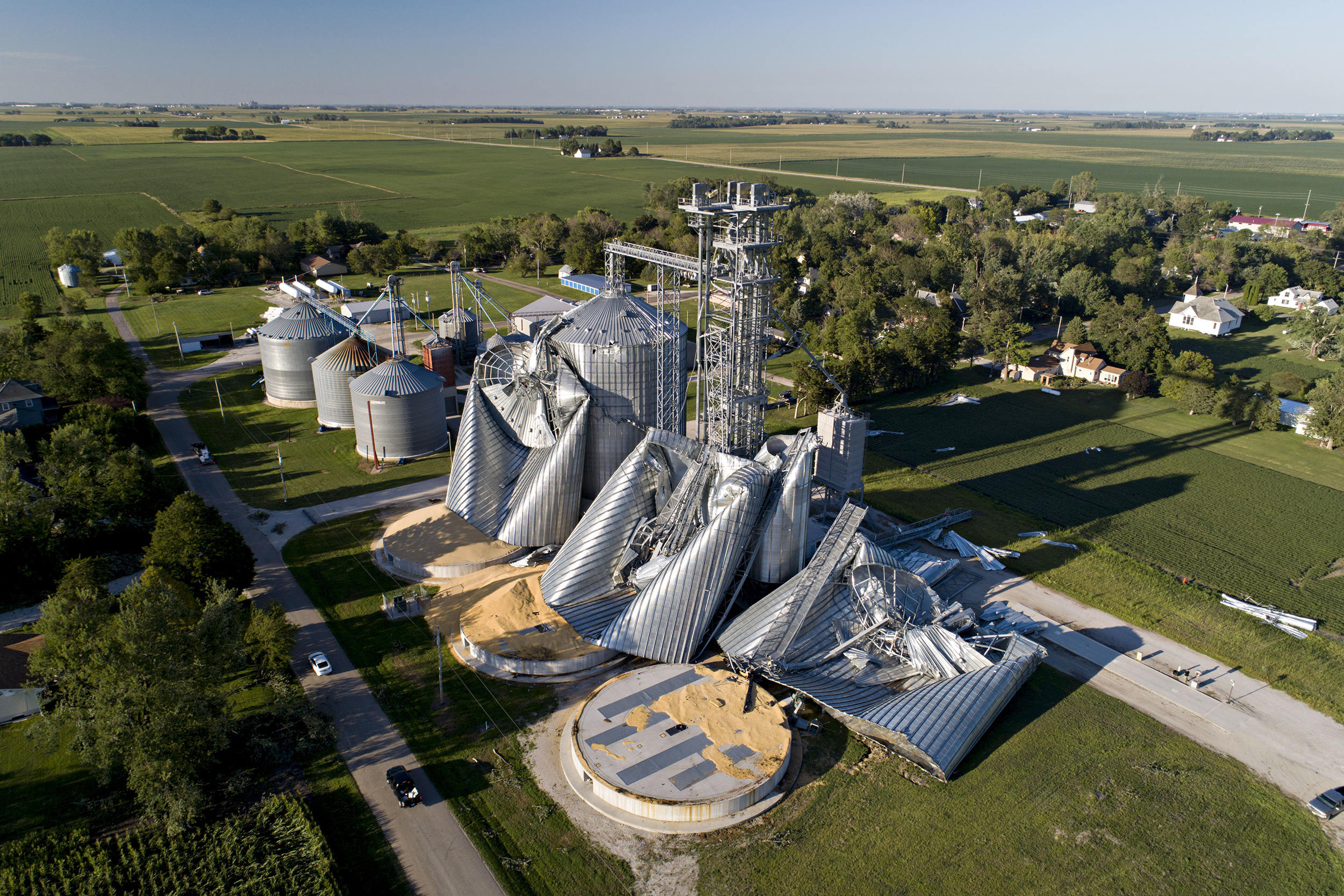 STRONG WIND DURATION
One thing that makes this derecho stand out is how long the strong winds lasted in parts of eastern Iowa (particularly around Linn/Cedar counties).
Strong winds, ranging from 80 to 140 mph, were ongoing for 40 to 50 minutes
Typically the strong winds only last 10 to 20 minutes in a derecho
According to the National Weather Service, the longest they had heard previously of strong winds lasting was up to maybe 30 minutes (in a derecho in Missouri in 2009).
Peak winds have been estimated so far at 110-140 mph, which makes this one of the strongest derechos on record.
According to research, the peak wind gust of 140 mph estimated in Cedar Rapids is among the strongest in derechos in the U.S.
The recorded wind gust of 126 in Atkins (Benton County) is the highest gust recorded from a storm (outside of a tornado)
The previous record was 123 mph in Washington, Iowa during the 1998 Corn Belt Derecho
The winds estimated in the Corn Belt Derecho in central Iowa were that of an "F2 tornado, 110 to 155 mph"
The winds in the 2011 Derecho in Benton County were estimated at 110 to 130 mph
The derecho covered an area nearly 800 miles wide in the Midwest with hurricane-force winds topping 100 miles per hour. It lasted 14 hours, destroying or severely damaging thousands of homes, schools and businesses while uprooting countless trees that had stood for over a century, helping take power lines down with them. The storm knocked out power to more than 1 million people in the Midwest. While most of the power has been restored, Cedar Rapids was one of the hardest hit cities.
Cedar Rapids Mayor Brad Hart said the storm and the damage left in its wake was unprecedented for the city."I lived in Houston and I lived through some hurricanes, so some describe this as a land hurricane where we had these sustained winds for 45 minutes. It just didn't stop," he said. "And that doesn't happen in Iowa. We have tornadoes, and the path of tornadoes … is much more narrow."
Hart said the destruction was made worse due to the width of the derecho."This wiped out our entire county," he said. "There was no power in the city and much of the county, people didn't have cell service. The streets were impassible. It was horrific."With utilities companies working around the clock to restore electricity to about 12,000 customers still without power, hot water and air conditioning should hopefully be back on for everyone soon.
This derecho is among the strongest in Iowa and in the United States